10

Three Birds Sing a New Song: A Puerto Rican Trilogy on Dystopia, Precarity, and Resistance
Gregory Stephens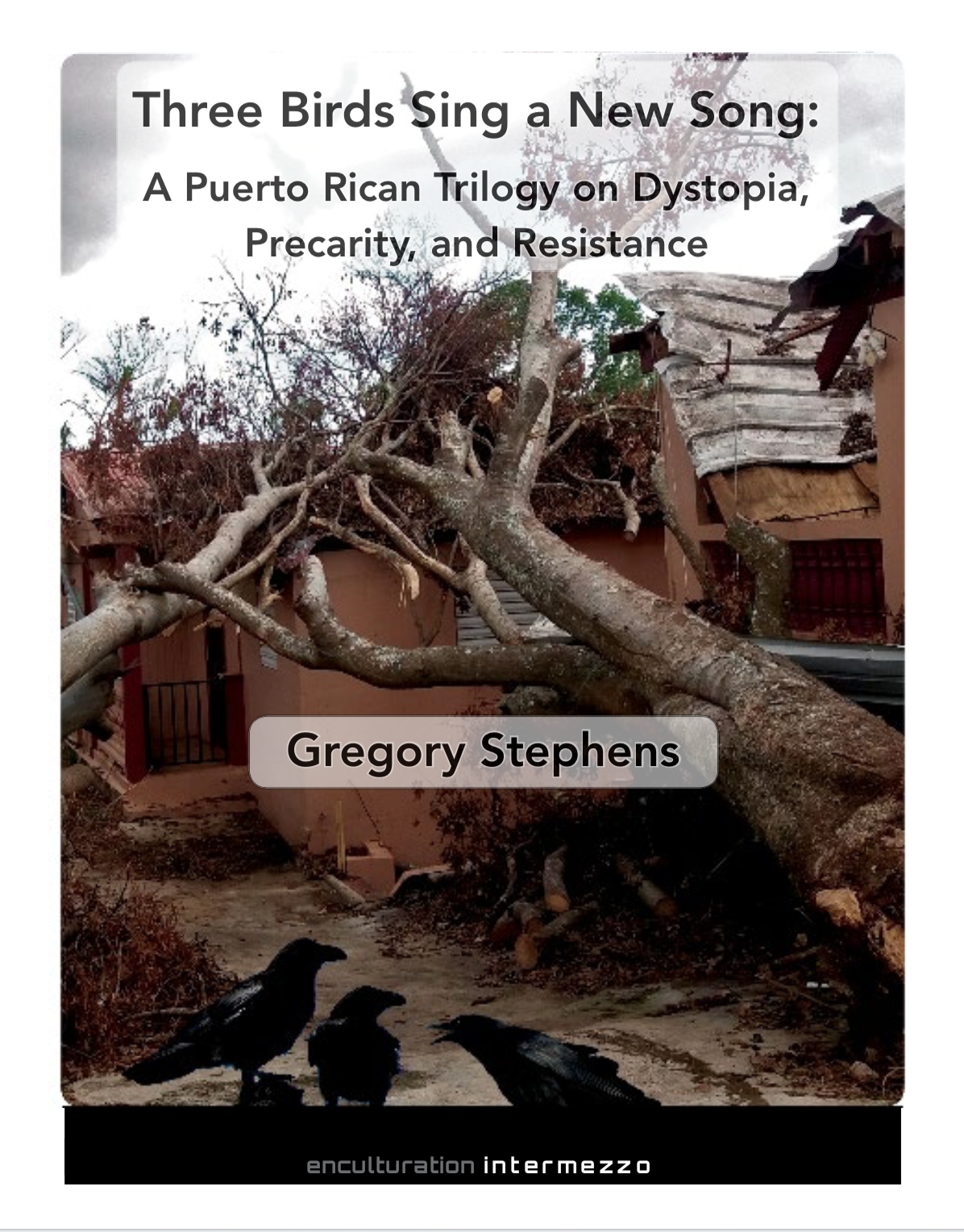 ISBN: 978-0-9864333-9-9
This ebook is optimized for viewing in Adobe Acrobat. Some elements may not function as intended in other PDF readers.
Abstract
The post-apocalyptic has become a fashion; life is ever more precarious; and meaningful resistance is hard to envision. These are the themes of "Three Birds Sing a New Song." The title alludes to Bob Marley's "Three Little Birds." Unlike that utopian moment, Stephens induces the birds to sing in a darker register. The disintegration of the social order in Puerto Rico, accompanied by an environmental disaster, provokes a rethinking of how the issues of Dystopia, Precarity, and Resistance have been voiced and theorized in the Global North. Following the lead of Marley's line about "so much trouble in the world," the writerly voice tends towards a fusion of literary and ethnographic approaches. Yet the book remains grounded in communication studies and sustains a theoretical through-line--about the need to "confront the condition of trouble without end." The point of departure is "Teaching Dystopia in the Last Colony," about translating the post-apocalyptic genre. Part Two is "Rethinking Resistance in the Puerto Rican Crisis," which uses Stuart Hall to examine Spanish-language debate about Puerto Rico's lack of sovereignty and financial stability. "Still Life in Motion: After the Apocalypse in Puerto Rico" brings lived precarity into dramatic focus. The book also interweaves smaller set pieces such as student voices on the crisis, and "A Work of National Importance," an ending reflection about a citizenship ceremony in San Juan conducted in Spanish.
About the Author
Gregory Stephens is Associate Professor of English, University of Puerto Rico-Mayagüez. He has finished four book 2018-19. Trilogies as Cultural Analysis: Literary Re-imagining Sea Crossings, Animals, and Fathering (Cambridge Scholars, Fall 2018) is literary criticism and cultural analysis. The ethnographic monograph Three Birds Sing a New Song: A Puerto Rican Trilogy on Dystopia, Precarity, and Resistance is published by Intermezzo (April 2019). Communicative Cultures in Writing Studies: Ethnographic Approaches, Transferable Skills, and non-Academic Genres, co-authored with Janice Cools, is for University Press of Colorado. The Poetics of Indigenismo in Zapatista Discourse: The Mexican Revolution Revisioned Through Mayan Eyes is in production with Cambridge SP and will appear in 2019. An earlier version of this manuscript was my M.A. thesis in Spanish literature at the University of the West Indies-Mona, and draws on ethnographic research I did in Chiapas.
enculturation | intermezzo
2019
Published Under an Attribution-Noncommercial-Sharealike Creative Commons License